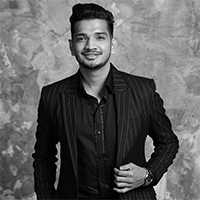 Munawar Faruqui
Artist
Munawar Faruqui is a multi-talented artist who has made a significant impact in both the stand-up comedy and music scene in India. With his keen interest in music, Munawar has successfully combined his two passions to create a unique and captivating style that has resonated with audiences across the country.
His recent release ""Alag BT"" has been a hit, showcasing his ability to blend various genres seamlessly and create something truly unique. Munawar's previous tracks like ""Khawab,"" ""Kalandar,"" and ""Khawahish"" have also been highly popular, proving his versatility as a musician.
But Munawar is not just a talented musician; he is also a highly acclaimed stand-up comedian known for his sharp wit and humor. He has the ability to connect with his audience in a way that few others can, making him a beloved performer among fans of all ages.
What sets Munawar apart is his ability to create art that is both thought-provoking and entertaining. His music and comedy tackle a range of subjects, from love and relationships to politics and social issues, always with a unique perspective that challenges audiences to think deeper.
Overall, Munawar Faruqui is a gifted artist with a bright future ahead of him. His ability to create art that is both entertaining and meaningful makes him a valuable addition to any platform or stage, and we can't wait to see where his talents take him next.
View All