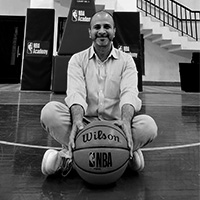 Murtuza Madraswala
Head - Marketing, Content and Communications,
NBA India
As Head of Marketing and Content for NBA India, Murtuza Madraswala leads the league's content and marketing efforts in India to help grow the NBA's popularity in the country.
A seasoned marketing expert with more than 20 years of advertising and brand building experience, Madraswala has worked on campaigns for leading brands across Sports, Petroleum, Real Estate, Electronics and Automobile sectors. Prior to joining the NBA in 2018, he was the Head of Marketing & PR for Sony Pictures Networks India. Before that, he held various other senior roles as General Manager - Marketing at Amigo Sports Pvt Ltd, the exclusive licensee for FIFA merchandise in India, and AVP - Marketing at Ten Sports, where he was instrumental in the launch of the cricket and football channels in the bouquet.
Madraswala, who currently resides in Mumbai, has an MBA in marketing and advertising from ENPC, Paris, and a diploma in personnel management from Xavier Institute of Management, Mumbai.
View All