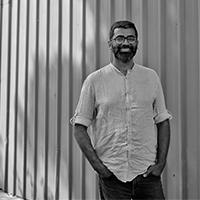 Rohan Rehani
Founder ,
Moonshine
Rohan Rehani is the Co-Founder
of Moonshine Meads - Asia and India & #39;s first Meadery. Mead - is a gluten-free alcoholic
beverage made by fermenting honey, with fruits & or spices. Moonshine has been
commercially available in India since 2018, Sourcing honey directly from beekeepers,
Moonshine offers not only its flagship Meads—Apple Mead, Traditional Mead and Coffee
Mead — which are available all year round, but also seasonal meads known as MeadLABs.
These include Salted
Kokum Mead, Guava Chilli Mead, Chocolate Orange Mead, Grilled Pineapple
Mead, and many more.
Apart from offering meads, Moonshine also has its own wing of
'Moonshine Honey Project', which uses a unique 'Hive to Table' approach. Through
this, they offer a variety of uniflora honey, such as—Acacia Honey, Mustard Honey, Sidr
Honey—freshly sourced from their own bee boxes - available for sale directly from their
website - www.moonshinemeadery.com.
View All