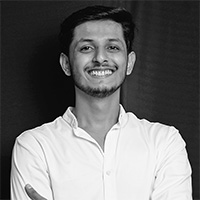 Anubhav Dubey
Co-Founder,
Chai Sutta Bar PVT. LTD.
Anubhav Dubey, started his entrepreneurial journey at the age of 22. A small-town young boy who wanted to be an IAS officer but arrived to become co-founder of the Tea brand CSB (Chai Sutta Bar). Back in the year 2016 while preparing for the UPSC exam the idea of selling sophisticated Chai bounced in the heads of Anubhav and his best friend and Co-founder of Chai Sutta Bar Anand Nayak. The original idea was to have a self-owned food venture and then the concept of Chai Sutta Bar originated. The team of two became stronger when the two were joined by their friend Rahul Patidar
Within 7 years of the startup, the young entrepreneurs have taken the brand of "Chai-Sutta Bar", and cuddle the Kulhad- It's all about the love for chai, not sutta and bar not just across India but also around the Globe. Currently, it has 480+ outlets in 195 cities.

View All