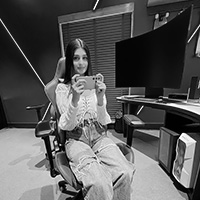 Payal Dhare
Gamer, YouTuber, and content creator ,
8Bit Creatives
Payal Dhare, hailing from the small city of Chhindwara in Madhya Pradesh defied societal stereotypes from an early age and embarked on a journey as a gamer. It all began when her cousin's brothers introduced her to the world of video games. While Payal's father provided unwavering support, her mother initially shared her concerns for her future. However, Payal's determination and passion gradually changed her mother's perspective. As a result, her mother now stands as a proud supporter of Payal's achievements.
Payal commenced her career as a hardcore content creator. Although her first video on YouTube did not feature gameplay, it served as a significant starting point for her. Unlike aspiring lifestyle influencers, Payal's primary focus was to connect with her audience through gaming. She aimed to have fun while playing games and involve more people in the process. Payal believed that competitiveness was only sometimes necessary when engaging in video games.
From being a little-known face in 2020 to being invited to Youtube Fanfest in 2022, Payal has created a space in the industry, not only for herself but for an array of other female creators. Winning Chhindwara Face of the Year, being one of Hungama's 50 Woman Game Changers of 2022, winning HT Health Shots She Slays Award for Gaming, working with Akshay Kumar and being a first-choice female gamer for brands, have all been momentous in Payal's journey.
By breaking stereotypes and pursuing her passion, Payal Dhare has become an inspiration for aspiring gamers, content creators, and individuals seeking to challenge societal norms. Her journey exemplifies the importance of following one's dreams, even in the face of adversity.
View All