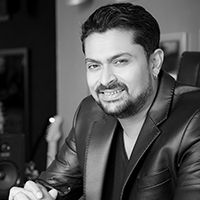 Devraj Sanyal
Chairman and CEO -India & South Asia, SVP Strategy, AMEA,
Universal Music Group
Devraj Sanyal is the Chairman & CEO, India & South Asia, & Senior VP of Strategy for Asia, Middle East and Africa, Universal Music Group.
Sanyal runs the label, publishing, talent management, live & all allied businesses for the group for the region and is regarded as one of the top A&R men in the Indian music Industry worldwide.
Sanyal is focused on turning the Indian music ecosystem into an artist first music & singer songwriter led economy from the traditional film led music that it has been for years through his multiple labels that operate under the "Universal Music Group" umbrella and is leading that charge with the largest Non-Film Music roster in the region across multiple genres of domestic local language pop, hiphop , rock, dance & regional music.
Sanyal is a future forward music professional who is readying to make our music industry count in the top 10 music markets in the world in the very near future and is on the forefront of taking our brand of music global.
Sanyal is a regular keynote speaker at the top music, media entertainment conferences across the region and globally. Sanyal was on the jury of "The Midem Artist Accelerator", the world's most prominent artist accelerator at Midem, Cannes for all its years. He is the only music & entertainment industry executive to have been awarded the "Indian Institute of Economic Studies's prestigious "Udyog Rattan Award" and also made it to the "Top 25 Executives Under 40 running India Inc" by Business Today" along with the Hindustan Times "Top 50 young Stars under 40".
Sanyal is now the only Indian label & publishing executive to make the hallowed Billboard "International Power Players" List for the third consecutive year in a row this year. Sanyal represents his region on all global bodies like the IFPI, ICMP, CISAC & others.
Sanyal has been on television as a judge for India's first ever English talent show #TheStage for all seasons.
View All