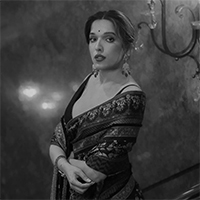 Dr. Trinetra Haldar Gummaraju
Content Creator, Actor, Doctor
Dr. Trinetra Haldar Gummaraju is a content creator, actor, and Karnataka's first transgender doctor. She was on both India's and Asia's Forbes 30 under 30 Lists in 2022, and on GQ's 30 Most Influential Young Indians List two years in a row.
As a woman of trans experience, her content often addresses misconceptions and stigma around the queer and trans communities in ways both real and comedic, her life in and out of the hospital, her experiences in transition, and more. Gummaraju among others provided gender and sexuality sensitisation to the honourable Madras High Court, leading to a series of orders by the court to ban conversion therapy, remove queerphobic content from medical literature, and various other protections.
Gummaraju will make her acting debut in upcoming Amazon Prime web-series Made In Heaven Season 2.
View All