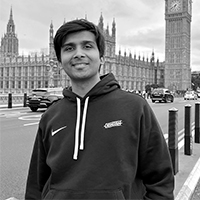 Jai Shah
Co-Founder,
Orangutan Gaming Private Ltd.
Jai Shah, Co- Founder, Orangutan India
Jai Shah is the Co-Founder and Head of Revenue Management of Orangutan India. Coming in with years of experience in business and strategy consulting, project management, research, and development and more, Jai is responsible for building the esports, talent management and apparel verticals of Orangutan. He has previously been associated with organizations like Percept Limited, BHyve, The Alpha Urbane Project and more. Aside from his professional endeavors, Jai is passionate about providing accessible education and is a Mentor at LeverageEdu where he mentors students who want to pursue higher education abroad. Jai Shah holds a bachelor's degree in Commerce from University of Mumbai and in Entrepreneurship and Business Management from ISME along with a Master's in Entrepreneurship and Management from University of Bath. In his free time, Jai is passionate about running, fitness and gaming.
View All