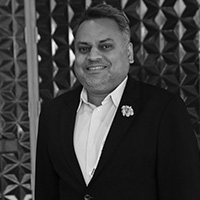 Jay Shah
Vice President, Head - Cultural Outreach,
Mahindra & Mahindra
Jay is Vice-President, Head – Cultural Outreach at the Mahindra Group. Cultural Outreach by a Corporate House is a relatively new concept, and Jay is one of the few industry professionals championing this idea. He helms several projects in the culture space, including– Mahindra Theatre Festival and the Mahindra Excellence in Theatre Awards in New Delhi, The Mahindra Blues Festival in Mumbai, The Mahindra Sanatkada Lucknow Festival in Lucknow. Mahindra Kabira Festival in Varanasi. The Mahindra Cultural Outreach portfolio has recently added 3 new festivals: Mahindra Percussion in Bengaluru, Mahindra Roots and Mahindra Independence Rock in Mumbai. In addition to these, Jay uses Culture to propagate essential messages and build a sense of connection and common ethos between the over 200,000 employees of the Mahindra Group.
Jay is the recipient of the Summer Fellowship for International Arts Managers by the DeVos Institute of Arts Management at the Kennedy Center, Washington DC. Jay is also the recipient for the Chevening Scholarship given by United Kingdom's Foreign Office for the Manager's for Leadership Course at the University of Leeds. Jay was invited to the Edinburgh Fringe by the British Council as part of a cultural delegation.
View All