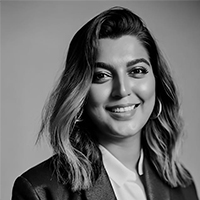 Shirley D'Costa
Chief Business Officer ,
Kulfi Collective
An enterprising content marketing professional, Shirley D'Costa has over 17 years of experience as a strategy planner and a business head. She enjoys setting up teams, building startups and watching them become powerhouses. She is a multifaceted powerhouse whose specialities include business growth & acquisition, digital strategy, client management and more. She currently heads growth and marketing as Chief Business Officer at Kulfi Collective, and its 3 verticals: Supari Studios, Post Office Studios, and Keeda Media (with its brand Vitamin Stree).
Shirley cleared her medical entrance test but switched quickly to pursuing Mass Media in Advertising and a Postgraduate degree at MICA, Ahmedabad with a double Major in Account Planning and Media Management. After working with remarkable organisations such as Lowe Lintas and Ernst & Young, she did a three-year stint as a Brand Strategy Manager at DDB Mudra, picking up an Effie along the way.
With a keen eye on the future, Shirley, who has always let curiosity guide her path, moved to digital by joining 22feet (then acquired by Omnicom, and renamed 22feet Tribal Worldwide) where she worked as the Business Development Head at the Mumbai office for over 6 years.
Shirley joined Kulfi Collective in 2019, leading business development for all three verticals. Armed with a deep knowledge of growing startups and the setting-up of future ready profitable ventures, Shirley oversees marketing, growth and business development for each vertical, efficiently building a successful business model for the Collective.

View All